Shop
Flamenco India T-shirts
---
For Oliver Rajamani Therapy CDs with psychotherapist Anita Jung Please click here
---
Purchase CDs on cdbaby
---
Flamenco India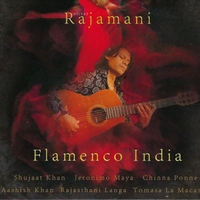 Rajamani's innovative journey into the historical Indian roots of Spain's Gypsy Flamenco featuring legendary artists including Tomasa La Macanita, Ustad Shujaat Khan, Jeronimo Maya, Ustad Aashish Khan, Chinna Ponne, Rajasthani singers.
---
The Dancing Horse
Rajamani's "The Dancing Horse" an instrumental compilation featuring artists such as Eric Johnson, Cindy Cashdollar , Apache singer Freddie Kaydahzinne. The CD is rocking, exotic, and spiritually soothing. Oud, Rebab, Flamenco, sarod, electric guitar.
---
Texas Gypsy Fire
Texas Gypsy Fire: is Oliver Rajamani's exotic and unique creation. From the magical sounds and rhythms of India to the passion of the Romani people(Gypsies) and their music, to the lone star country and blues of Texas, Rajamani fires up the stage. This is a revolutionary sound found nowhere but only on the stage where Rajamani performs. Rajamani sings mostly in English, sprinkled with Spanish and other languages from India. The lyrics are poetic and spiritual as Rajamani speaks about his home life in Texas as well as love, loss, divinity and more. He accompanies himself on exotic instruments from India, MiddleEast as well as flamenco guitar backed by seven Texas booted and hatted musicians on violin, drumset, percussion, bass, keys and more.
---
The Two Lovers
"The Two Lovers" is an album for lovers, romantics, yogis, poets, spiritualists, therapsists and all. The album contains long performances of meditative instrumental solos on the sarod, tabla, oud and rubab with spoken word poetry. The beautiful soothing and hypnotic melodies on the violin are performed by Master Carnatic violinist V.V. Murari from Chennai, India. The idea of the "the lover" and the "beloved" is central to many spiritual practices of this world. From Christianity, to Islamic Sufisim, to Yogic Hinduism, to Judaism and more. In many parts of the world, Christian spiritualists see themselves as brides of Chirst. In Sufism, love and God are the same as in the poems of Hafiz. In India you have the very deeply sensual spiritual poetry of Meera for her dark hued, flute playing lover "Krishna". The lover in all these traditions speak of the Divine, but the term also translates to ones own significant other, parents, children, nature or life itself.
---
Forty Days and Forty Nights
"Forty Days and Forty Nights" are two of Rajamani's albums released at the same time. The albums are both in honor of Yeshua(Jesus of Nazareen). "Forty Days" is filled with songs of light and energy, while "Forty Nights" is filled with calming and meditative melodies. The teachings of Yeshua were brought to India in 52 A.D. by Thomas "the doubter" . Thomas was one of the twelve disciples of Jesus. Thomas was killed in TamilNadu, India and buried there by Hindu fanatics. You can actually visit these historic sites in Chennai TamilNadu today. In India Jesus is called by the name "Yesu" in Tamil or "Yeshu" in Hindi. There is a deep Bhakti movement in conjunction with Indian culture, music and traditions in regard toYeshua. The Yogis honor Yeshua as divine and teach the yoga of Yeshua. Although Christinity is a religion of minorities in India, it is still part of the ancient Indian culture and heritage just as many of the other religions found in India. Indian Christian music has its own devotional songs based on the classical raga systems of India as well as the devotional bhajans of Hinduism.
The teachings of Yeshua are very deeply misunderstood in the modern world today. Christianity as a religion and Christ as a spiritual figure have become very much connected to Western way of living and culture. Even the physical appearance of Yeshua has become transformed into a blond, blue-eyed white male (although there are no facts on how Yeshua looked).
Today Christianity is seen as a religion of the West, but Yeshua himself was of the East and his teachings were mystical and Eastern in origin. The teachings of Yeshua came to India through Thomas not as a religion but more as a teaching and "a way of living" through peace, love, compassion.. understanding and deep awarness. Later it was again brought to India by the British Empire, but this time more as a religion in order to convert the primitive sinners of India. This CD is not to divide West from East, nor to convert anyone to any one belief system. Rather, this cd is to show that the love of Yeshua was much beyond all of the world's petty ideologies. This CD is hopefully intended to bring one closer to their passionate heart.
---
Sabas
This is Rajamani's second Album. It is filled with beautiful melodies of the Indian, Middle Eastern and Flamenco musical traditions.
---
Pakiam
This is Rajamani's first debut album dedicated to his Grandmother "Pakiam".
---
Rajamani Live! Devotional Concert
This sixth album of Rajamani's is a live album from a concert done in the summer of 2010. The concert featured ten musicians and four traditional dancers of the Indian tradition. The concert was a beautiful evening where a full house audience sat Indian style on beautiful rugs and enjoyed the performance. The stage was lit with candles and the hall was surrounded with draping saris.
The first song on this album featured Rajamani coming on stage and doing yoga asanas to the vedic chant. The fourth song featured the Bharathanatyam dancers.
The concert concluded with Rajamani leading the audience in surya namaskar and meditation followed by samosas and chai.
We hope this album captures the beautiful energy that was experienced that evening.